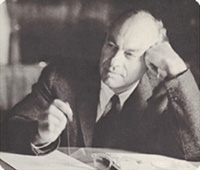 George Gallup was the founder of the Gallup Poll, the Gallup Organization, Gallup International and co-founder of Gallup & Robinson. Born, raised and educated in Iowa, he developed a construct for polling to convey people's ideas, needs and wishes to institutions, government and companies. Now used universally around the world, his vision and methods have caused him to be recognized as one of the most influential Americans of all time.

The Gallup House
is the birthplace and boyhood home of Dr. George Horace Gallup, the pioneer of public opinion polling.

Located in Jefferson, Iowa, the inspiring octagonal structure was built by Dr. Gallup's father at the turn of the 20th century. The unique property, coupled with the small hometown and "Mayberryesque" quality of life in Jefferson offers important perspective about the person behind the lengthened shadow that Dr. Gallup's many pioneering innovations and ideas have cast over modern politics, business and culture. The importance of the house to Dr. Gallup's formative years is evidenced by his many warm references to it during his adulthood and the many visits he made back to the property later in his life.

The Gallup House, which is on the National Register of Historic Places, has recently been renovated. It is available for rent by those seeking to experience small town values, big-time history and a place to gather with family, friends and colleagues.

Stay overnight. Plan a retreat. Take a vacation. Hold a meeting, conference
or reception. Visit the heartland. Refresh the spirit.
Enjoy the Gallup House experience.


Check Availability...